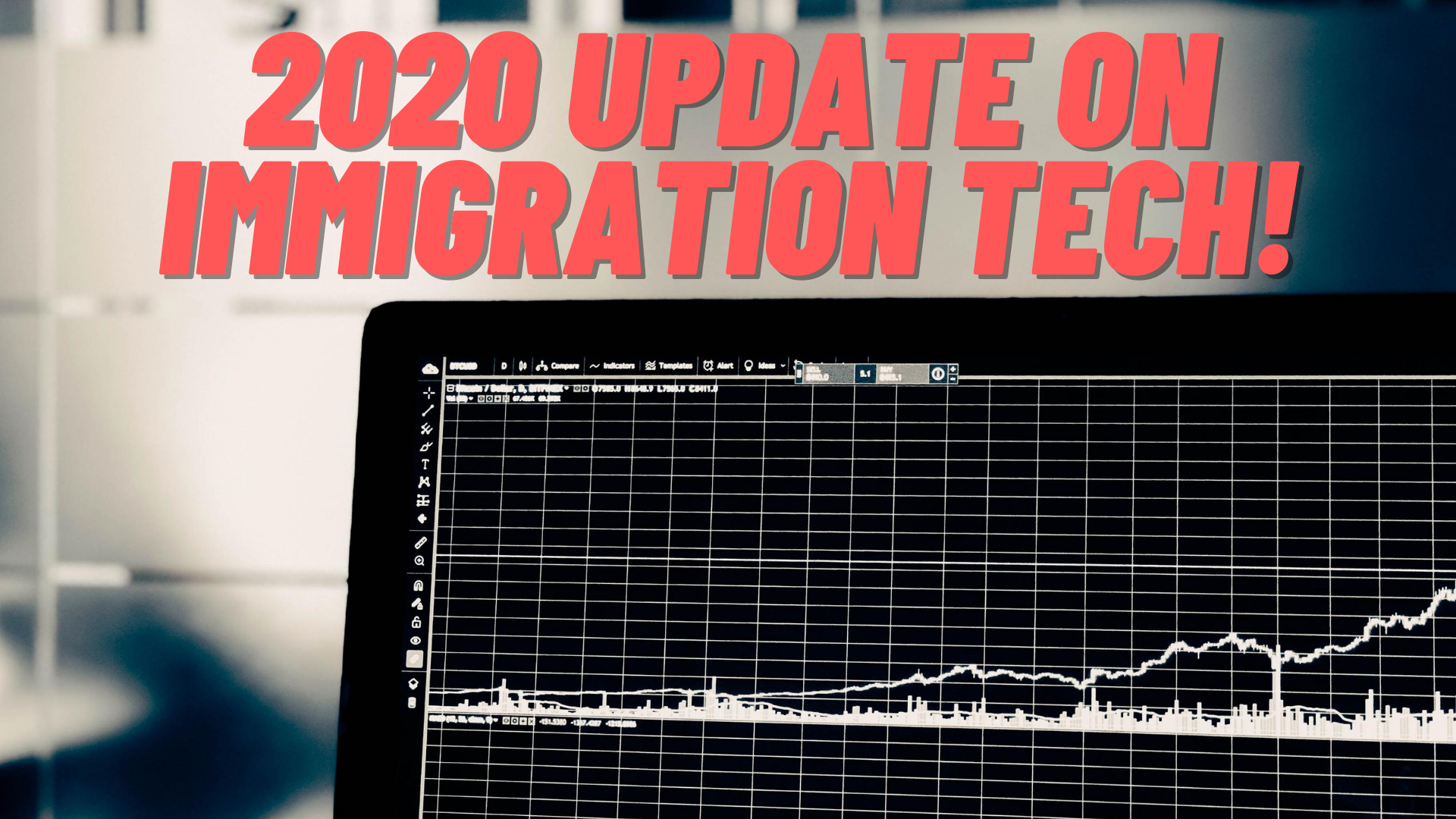 A year and a half ago, I wrote an article summarizing the growth of immigration tech companies after noticing that while so much was happening in the industry, no one was really looking at it in a comprehensive, celebratory way.
Well, it's now the second half of 2020, and it's time for another update because some big things have happened since early 2019. From bigger VC funding rounds to additional rebranding and even to a recent acquisition (which is always incredibly exciting!), immigration tech is still booming and, as I'll explain below, is just getting started.
I'll also share a few thoughts about why I'm still extremely bullish about the continued digitization of immigration compliance, specifically the niche I'm focused on - electronic labor condition application (LCA) posting and electronic public access files (PAFs).
So, what's the latest movement in immigration tech?
Immigration tech update
It's one thing for us immigration nerds to be excited about new industry tech, but when the broader business world shows interest in the immigration tech space, whether through investment, acquisition or even just broader adoption, that's something to celebrate. Over the last year and a half, there have been at least a handful of developments in this arena, and here they are.
Outside investment
Rebranding
Bridge. One of the biggest rebrands of the past year and a half has been Bridge. An immigration tech startup with a fascinating founding story (watch my interview with Bridge CEO Romish Badani here!), Bridge has built out an entire corporate immigration platform aimed at helping in-house immigration and HR teams not only manage their immediate immigration needs but also plan and strategize for future needs, create corporate policies and more. Bridge announced their new brand and unveiled their corporate immigration platform in November 2019, which included a brand new logo, website redesign, a series of videos about the company and more. I should also mention that Bridge did raise outside capital back in 2014, $800,000 to be exact, but hasn't raised any additional money since. I failed to include them in my initial immigration tech industry article, so this is to make up for that.
Infotems. This is an immigration case management company that's been around for a while and recently rebranded relatively recently. When I last wrote about them a year or so ago, the company was, as I found out later, in the midst of updating their tech and, with that, their brand. No press releases here to share about their rebrand, but check out their website if you're interested in learning more about their product.
Bluedot. Same as above, Bluedot is an immigration case management platform that has been around since 2003. As with Infotems, Bluedot recently rebranded their company, including coming out with a cool new logo! Check them out here.
Acquisition
Ok I'll be honest, the real catalyst for this article was a recent immigration tech acquisition that, when I read about it, made me nearly jump out of my seat.
Yes, you read that right! An immigration tech company was just acquired!!
(I know this was already in the title of the article, but let me be excited, won't ya?)
Not only is this rare in the immigration tech industry, it's something I think and write about quite often because I think the lack of acquisitions (or other liquidity events) deters innovation. So when it happens, it's exciting AF.
Just a few days ago, on Friday, July 31, 2020, it was announced that San Francisco-based Tracker Corp, an I-9 compliance, E-Verify and immigration case management company was acquired by Mitratech, an Austin, TX-based tech company focused on legal matter management.
An interesting fact to note is that Mitratech, which was originally founded in 1987, has been owned by private equity since 2011 - first acquired by Vista Equity Partners, then by TA Associates in 2015, and as of 2017 by HGCapital, who own a majority stake (TA Associate still hold a minority stake). So maybe private equity is the way to go as far as near-term acquisitions of immigration tech companies? Only time will tell.
Huge congrats to the Tracker Corp team, but this is a win for the immigration tech industry as a whole because it is yet another example of the value that immigration technology can create, and not just for us immigration nerds, but for business people of all stripes.
This is only the beginning.
That's why I'm so bullish about Electronic LCA posting
Just to be clear, I don't think that outside investment or acquisition are the end all be all. Indeed, outside funding can create perverse incentives, unreasonable expectations and undermine a company's natural trajectory, and acquisition can go awry too.
Plus, there are a number of immigration tech companies that have never received a dollar of outside investment, are privately owned, and whether in business for two decades or two years are also pushing our industry forward in incredibly meaningful ways.
But as I said above, liquidity events and even just getting recognition from outside the confines of the immigration industry is valuable. It pours more money into the field which does, at least to some degree, positively impact innovation. It also means there's more buzz around the business of immigration law, which can inspire the next generation of entrepreneurs in the space. The point is, the more positive events in the industry, the better.
As an immigration lawyer-turned-immigration tech startup founder myself, I wish I had the articles, resources and content that exist in the immigration space today. Back when I had the idea behind LaborLess, which, in case you aren't aware, brings electronic LCA posting and public access files to immigration law firms and in-house immigration teams, I had to read about other industries, draw my own parallels, and hope for the best.
Well, not only have I been exposed to (and I supposed have created at least some of the) content around immigration tech that would have motivated me even more to double down on LCA compliance tech, for better or worse, the happenings of the last year and a half have helped as well.
I've broken it up into three parts:
Then. The first was the US Department of Labor (DOL) issuing a memo on March 15, 2019 that basically gave the thumbs up as it relates to providing electronic LCA notice. It was something that a few companies were doing before that but most lawyers spent more time (and rightfully so) arguing over the legality of it electronic LCA compliance than figuring out ways to implement it in a meaningful way for their clients. This was a layup from the DOL that propelled LaborLess in a way that no amount of funding or anything else ever could have. Indeed, through a series of crazy events, this memo led to me being invited to go down to DOL's HQ in DC (that's a lot of acronyms, sorry!) to demo LaborLess. I wrote a piece about that surreal experience.
Now. At the time of writing, we are still living through the COVID-19 pandemic which, while devastating economies, taking hundreds of thousands of lives and halting immigration, has accelerated the adoption and embracing of both remote work and legal technology. These two separate phenomenon led companies to scramble to figure out how to handle LCA compliance in a now almost ubiquitously virtual workplace (which the DOL opined on and I wrote about here and here) and a heightened openness to adopting more legal tech. LaborLess fit the bill perfectly, and we grew considerably over just a few months.
Looking ahead. It's an election year here in the US and COVID continues to crush immigration, but one thing seems to be certain: immigration compliance continues to grow in importance. On 07/31/2020, DOL issued a statement that they've entered into an agreement of sorts with the Department of Homeland Security (DHS) to share more information with each other, particularly around H-1B audits and enforcement. As compliance grows in importance from the government's standpoint, H-1B employers inevitably start to revisit their internal processes and make sure they're up to par. For many H-1B employers (and their law firms) that still handle the LCA process manually, a push for digitization might be on the horizon, and again, LaborLess will fit the bill.
A short conclusion
So there you have it - an update on immigration tech happenings and an argument as to why my conviction around my laser focus on digitizing LCA posting and the entire process around it grows stronger by the day.
Interested in learning more about LaborLess? Check out our site and drop us a line, or connect with me on LinkedIn and ask me directly!
If I missed any other immigration tech companies that raised money, rebranded, were acquired or something else, please let me know in the comments.
And if you enjoyed this article and found it helpful or interesting or even just entertaining, I'd really love to hear your feedback in the comments - it's what keeps me writing - and tag someone who you think might be interested in it as well!