[3/26/2020 UPDATE] If you are reading this because you want to adopt electronic LCA posting for your law firm or company, and get it done FAST, visit the LaborLess website or email us directly at support@laborless.io.
[3/23/2020 UPDATE]. On Friday, March 20, 2020, The US Department of Labor's (DOL) Office of Foreign Labor Certification (OFLC) finally put out guidance on how immigration practitioners and employers hiring foreign nationals can and should deal with LCA posting during the COVID-19 crisis, and they make it very clear that firms and companies should consider electronic LCA posting. Per the DOL: "During this pandemic, and in general, employers should also be aware that the regulations allow employers to provide electronic notice of an LCA filing."
[3/19/2020 UPDATE]. The American Immigration Lawyers Association (AILA) released their own Practice Alert entitled, "Fulfilling U.S. Department of Labor Notice Requirements During COVID-19 Outbreak" in which they state that the most conservative method of providing LCA notice right now is electronically. They note using a company intranet or direct email, which comes from 20 C.F.R. §655.734, but of course DOL published a follow-up memo to this last year on 3/15 specifically giving online, internet-based electronic LCA the go-ahead.
----
If you've ever hired an H-1B, H-1B1 or E-3 worker, you've probably had to deal with the headache of posting a Labor Condition Application (LCA) at some point: print two copies of LCA, post it at the right work location, monitor the posting, take it down, document the posting dates. Sure it's been the standard practice for many years, but it's also time consuming, expensive and hard to track. Which begs the question - can it be done better?
We think it can and we'll tell you how you can get started.
But first, a bit of LCA history.
The LCA was introduced in the Immigration Act of 1990, and is a way for employers to show the Department of Labor (DOL) that they are hiring foreign workers fair and square. In it, employers attest to the fact that they are paying their H-1B, H-1B1 and E-3 workers fair wages, that working conditions will not differ between foreign and U.S. citizen workers, that there's no strike, lockout or work stoppage, and that notice of the LCA will be provided to the employer's workers as well as the prospective foreign hires.
Initially, the LCA was a paper application that had to be printed, filled out, and submitted to the DOL by mail. Eventually, however, the DOL created iCert, an online system which allowed employers to submit their LCAs electronically.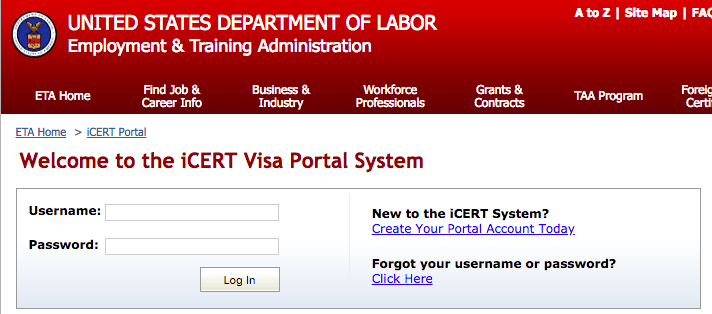 [4/4/2020 UPDATE] On October 1, 2019, DOL actually shut down iCERT for LCAs and switching on a totally new system, the Foreign Labor Application Gateway (FLAG). Leading up to the launch of FLAG, DOL actually made their rounds at various conferences including AILA and SHRM, and provided a good amount of video training. When FLAG launched, there were some bugs but the launch was mostly without major issue. The largest oversight with the new FLAG system has been the fact that there is no longer an "Initiated" Form 9035 with a T-200 number that can be used for posting. This threw off a lot of employers and immigration attorneys who always posted prior to submitting their LCAs. Since then, some have shifted to posting "summaries" while others have started to post "In Process" LCAs.


So why hasn't LCA posting become fully electronic as well?
Regulatory Changes in 2000 allowed electronic LCA posting, but old habits die hard.
In 2000, the DOL added 20 CFR § 655.734(a)(1)(ii)(B), finally allowing LCAs to be posted electronically. It states that an employer can electronically post LCAs by means it "ordinarily uses to communicate with its workers about job vacancies or promotion opportunities, including through its 'home page' or 'electronic bulletin board' to employees who have, as a practical matter, direct access to these resources; or through e-mail or an actively circulated electronic message such as the employer's newsletter." In other words, no more paper printouts, thumbtacks, and coordinating between different work locations, right?

The problem was that even though manual posting took more time, employers were, and still are, used to it. Creating your own means of electronic LCA posting, such as setting up a specific LCA-related email address or creating an additional page on your company website, takes time and money. And if it is set up, it still has to be managed and monitored so nothing falls through the cracks. In other words, electronic posting can still be a very manual process if not done right.

Some employers, however, have figured it out.
Large IT consulting companies that hire thousands of (mostly) H-1B workers a year have built pretty impressive web pages dedicated to LCA postings. Just take a look, for example, at Cognizant, Infosys and Ernst & Young, three of the largest players out there. Their H-1B workers are employed at third party worksites all over the country, so ensuring that LCAs are properly posted is much cheaper and easier if done electronically. Otherwise they would need to coordinate thousands of paper postings across hundreds of worksites throughout the U.S.

Smaller employers, including niche IT consulting firms, technology companies and universities, are attempting to do the same. Some post LCAs on their "Careers" page. Others have LCA posting links in their website footer. Still others post LCAs alongside immigration-related FAQs. It's not perfect, but the point is they're trying, even if they hire just a handful of H-1B, H-1B1 or E-3 workers each year.

Here are three easy ways to get started.
589,141 LCAs were submitted in 2017. We know that a number of these LCAs were posted electronically, but many were not, and we think more employers should take advantage of electronic LCA posting. Here are a few easy ways you can get started:

Add an LCA posting page on your website. Maybe you have a dedicated "Careers" page listing current job opportunities, or perhaps you have a "Legal" section  talking about terms of use, data privacy or employment attestations. Those pages can be good candidates for adding a link to a dedicated, in-house LCA posting page.

Build a Wordpress or other blog-based website. You can build an LCA posting site using a third party website or blog builder and then link to it from your website or however you choose to give notice to your employees. This way at least you don't have to built the entire page from scratch. You will, however, have to manually post and remove each LCA and track posting dates and other information.

Post your LCAs for free with LaborLess. We've built a tool that makes posting, monitoring and removing LCAs effortless. Easily upload and post your LCAs to the LaborLess platform, monitor each posting from your dashboard, and take them down with one click. LaborLess tracks posting dates, denied or withdrawn status and other important data, and let's you get back to more important and interesting immigration matters. The best part, it's free to start, and if you're a light LCA poster, it's free forever! No more paper printouts or wasted time coordinating between worksites.
Are you posting LCAs electronically, or have you thought about it? Let us know in the comments below!